Destination: Great Falls, MT
State Count: 27
End of Day Odometer: 348,382km
Progress Map:
Checked a few things on the van after getting up today, everything seems to be in order, aside from the persistent climate control issues that have plagued us throughout the trip. Luckily we managed to keep A/C functional for the entire trip, though we are now in climates that don't require it, so we've stopped using it. The coolant level remains full, so we are quite confident the cap was the only issue there. After getting the van ready we decided we wanted to eat breakfast, and so researched a few places in Dickinson that had good reviews. One place that had consistently amazing reviews was called Bogey's Diner. We decided to stop by and check it out, unfortunately it was closed (possibly for renovations, possibly forever).
After failing to secure breakfast at Bogey's, we headed over to another well-rated restaurant called Jack's Family Restaurant. After looking over the menu, John stated that they had nothing he wanted to eat. If I had known he wanted breakfast food, I would have made sure to find a place that had it, but while Jack's stuff looked really good (fried chicken amongst other diner-y fare), it wasn't really what we were looking for. I had a piece of their strawberry-rhubarb pie (which was delicious, with a caramel and crumble topping, plus ice cream) and John had a coffee. Breakfast would have to wait.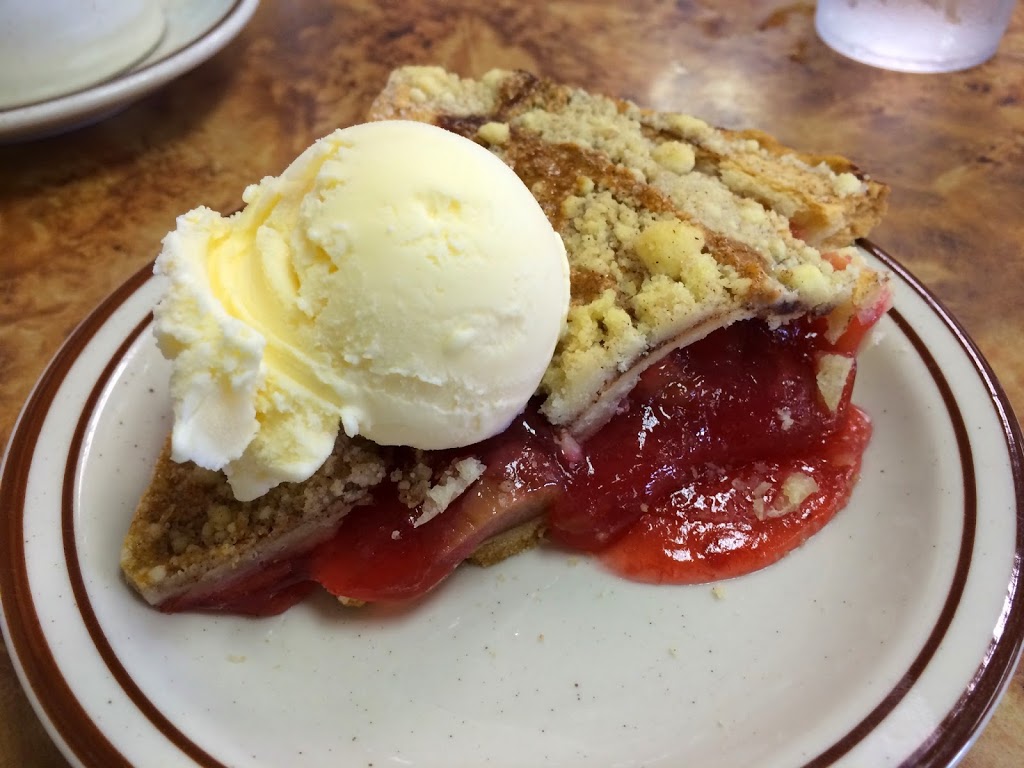 As we departed North Dakota, we found ourselves in the land of dinosaurs and pretty landscapes. One of the nicer drives we've done, and the scenery continued through into Montana. I wasn't really looking forward to North Dakota that much, but was proven wrong. Last time I drove through it was pretty boring (south Saskatchewan I call it), but we had taken a different route. Top notch stuff. It was pretty hard to get the van into any sort of good position for photos, since we are kind of on a timeline.
We were also lucky today that we were able to avoid the interstate, instead driving along the 200S and 200 highways through Montana, giving a much similar feel to the last similar trips I'd done. Gas stations are further, roads are nicer, and Sarsaparilla is found in the middle of nowhere (which is the safest part of nowhere, for sure).
We stopped at a McDonald's for some wifi and I decided I needed to try their new burger with Mac sauce. I feel like Mac sauce is underused by McDonald's. They've really got a winner on their hands, they should be exploiting it more often. So when I saw a new burger that used it, I had to try it. Unfortunately this location was out of the caramelized onions, so I was forced to eat it sans onion. I may get it again fully equipped, because it was really quite good. Not anywhere close or even worth mentioning together with Holy Chuck, but for McDonald's, pretty darn good.
When we got to Great Falls, we stopped in at Big R to check if they were open and what their hours will be tomorrow. They have a fantastic aisle full of all sorts of novelty soda, including Sioux City Sarsaparilla. We were down last summer and bought everything they had, it was quite the haul. Tomorrow is shopping day, we have had requests for various things and sarsaparilla is at the top of that list. We were lucky to find it in a few places along the way this trip, but we lost two bottles in Orlando and have been holding off buying too much stuff until Great Falls, since we won't need to sleep in the van again after tonight. We were told by a few people to check out the Sip 'n Dip here in Great Falls, and we looked into it, and we will definitely be back to check it out, but it was getting later and we ended up just relaxing at the Flying J for a bit. We tried to find a couple of local places for breakfast, but they were closed, so we just went to Denny's at the Flying J and had Grand Slams each. It is a rare occasion that we are at Denny's early enough to enjoy their soup (they stop serving it at 10:00pm), and they only offer broccoli cheese two days a week, today was one of those days. We had dessert soup, and the saltines were quite properly salted.
We bought, and drank most of, a can of Johnny Appleseed Hard Apple Cider at a gas station. What an authentic American experience!
We'll be back home tomorrow, looking forward to it. Not before loading up on some unobtainable American foodstuffs though. Big R here we come!
Day 19 Destination: Calgary, AB