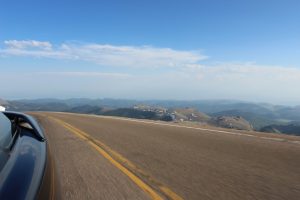 Destination: Denver, CO
End of Day Odometer: 74,914km
Progress Map: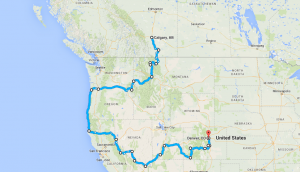 Heading out from Montrose, CO on Highway 50, it was actually a really nice drive, aside from all of the construction, which held us up a lot. We had checked on places to eat when we got to Canon City, and decided to try a place called Chicago Bob's BBQ. It had excellent reviews from almost all sources, and it looked like a tiny little shack in the pictures online, so it seemed like it might actually be pretty awesome. Upon arrival, we found it to be quite closed. Lame. So as we sat in the parking lot trying to decide what to do, we checked for the closest Chipotle, as I had been meaning to try it for some time and it seemed like a perfect time to give it a go. As we left town to Colorado Springs where the closest location was, I had a major epiphany: we hadn't driven Skyline Drive yet, the only
actual
reason we came to Canon City. If we had missed it, I would still be kicking myself.
Skyline Drive is a three mile long stretch of one way road on the top of a mountain built by inmates at the prison in 1908. I can only assume it was some sort of make-work project as it seems to serve no purpose whatsoever beyond existing. It's about the width of a bike path, which is what it feels like, driving on a bike path. The pictures of the driving today do almost no justice to the roads we drove on, so multiply these by about 5x and that's how cool it was. Still, I don't know if I'd go out of my way to drive it again. Thankfully it was only a 6 mile detour to get back to the road from where we were in town.
We stopped for a car wash on the way over to Chipotle, had a couple of people tell John how cool his car is, which is nice, since he sometimes thinks it's not that cool. Good reinforcement for future improvements! We stopped at a Chipotle in downtown Colorado Springs, CO for lunch, and had some burritos of size. John had a carnitas burrito and I had a chicken one. They were very good, and it would be nice to have a Chipotle back home. Still, missing out on some BBQ isn't something I enjoy doing. Turns out Chicago Bob's is only open Tuesday to Saturday, which has been a recurring theme over the past few days as we've driven through smaller towns in this part of the country. Nothing open on Mondays. What's with that?
Heading out from Colorado Springs on our way to Pikes Peak, I don't feel either of us had a full appreciation for what we were about to experience. I mean you have some idea based on what you've read or seen in photos, but again photos can only share so much of the story. In trying to capture the experience, from the bottom of the mountain to the top and back again we took approximately 950 photos. Many were extremely similar, but in the hopes that you'll get that one shot that just exemplifies the experience. I don't think what I found on the camera could do any justice to the feeling of driving up the mountain or what it's like to take your car up to elevations that a sport or recreational pilot can fly in a plane, by another 40%. You actually start to feel light-headed up there and just hiking around the summit shortens your breath noticeably. So the photos of Skyline Drive were lacking about 5x of the actual coolness, the ones of Pikes Peak are about 50x lacking.
Pikes Peak is a home to an international 19.99km race to the top, it happens every year and is well known by most automotive enthusiasts. It was a dirt track from inception in 1916 until being paved in time for the 2012
Race to the Clouds
. This year's race is taking place this coming Sunday and so the road was being set up in preparation. It made it all the more cooler that there was actual race things set up, I think about 500 of the pictures were of John trying to get the perfect shot of the hay bales.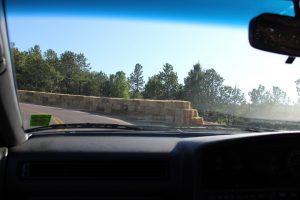 Nothing quite compares to the feeling of driving up the mountain looking at nothing over the edge but sky. Even as you approach what you think is high, and you're looking down on the city as if from a plane, the road continues to stretch up the mountain. As we neared the summit we came across a cyclist who seemed to be completely enjoying his decision to ride up the mountain. Upon seeing him on our way back down after having experienced the air up there, I can only imagine how difficult riding up would have been. Impressive, bike guy, impressive. It also gives you an idea of how insane it is for people to climb a mountain like Everest, which is roughly twice the elevation.
The view from the summit, while impressive, is tempered by the insanely cool experience that was getting to it and so leaves you feeling that it should feel better than it does. Still, it's quite the view.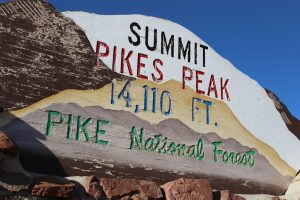 There were also a couple of test cars up at the summit, we couldn't really put our fingers on what type of cars they were, but it's always an interesting sight, and cool to know that they do that kind of testing up the mountain, as it is quite strenuous both going up for the engine as well as coming down for the brakes. The Supra did the job admirably, both on the way up and on the way down, no hiccups, no fuss. It was just a blast, and as we were one of (if not the) last car up the mountain, there was very little traffic to deal with and for the most part they got out of our way promptly.
I had the chance to drive up the mountain and we switched so John got a chance to descend. They are quite cautious to tell you not to ride the brakes and use first gear to engine brake as you make your way down. We may have taken those suggestions with a grain of salt. There was just some really good driving to be done, and first gear was not going to cut it. Not at all.
Every now and then we would come across a vehicle that didn't really seem like it belonged, but who are we to judge? I'm sure if I was in the area and all I had was a U-Haul, I'd probably do it too. Or rent a car I suppose, but hey, work with what you've got.
As we approached the mandatory brake check station, our brakes were a little bit hot, smoke was visible from the front wheels, though we hadn't actually begun to really push them. Still, we were over their 300-degree recommendation so we stopped for a few minutes to let them cool off before finishing our descent. The new brakes on the car did their job beautifully.
Basically, Pikes Peak is probably one of, if not the, highlights of my entire driving life. If you are ever in the area, make the time, pay the $26, do the drive. It will knock your socks off. We've had some good driving on this trip, some maybe even more fun in some sections where we could push the car further to its limit, but doing the climb up Pikes Peak is a completely different thing.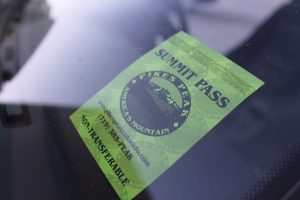 As were approached Denver, we decided not to continue on to Fort Collins, CO and instead stay here. We weren't hungry yet from the large burritos we had for lunch and there are a lot of places in Denver that have been on Diners, Drive-Ins and Dives, so it felt right that we would stop and grab some food in the morning, perhaps even a Denver omelette? Before heading to the hotel, we stopped in at a Ross; shoes, right?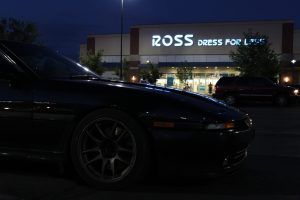 Tomorrow we'll be heading up to Red Lodge, WY, which is the last stop right before hitting the Beartooth Highway west to the entrance to Yellowstone National Park. Not much in the way of driving going on, but I'm still coming down from the high of Pikes Peak.
Day 11 Destination: Red Lodge, MT