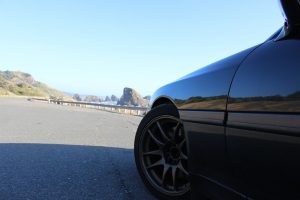 Destination: Fortuna, CA
End of Day Odometer: 71,829km
Progress Map: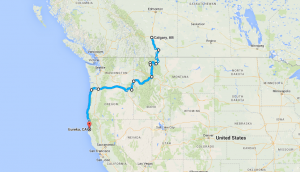 Our experience in Portland has been one mostly dictated by attempting to recreate and improve upon our last time here in 2013. The hotel experience has been greatly improved, Podnah's was better than I remembered it last night (and they had glass-bottle Dr Pepper) and so we were really looking forward to heading over to Arleta Library Bakery & Café for breakfast this morning. Both Podnah's and Arleta Library were featured on Diners, Drive-Ins and Dives, which was the reason for choosing them years ago. I had already been to Arleta Library once before John and I came last time, and I recommended he try to the biscuits and gravy, as it was featured on the show, and I knew it was quite good. Unlike other biscuits and gravy I've had that tasted like drinking wheel bearing grease, these are good quality biscuits with a slice of pork on top and a lighter gravy that isn't completely smothering the entire plate. You can easily choose how much or how little you want and it is just a nice experience. Still, John would say it's not a food that belongs with breakfast and I might agree, still, they're only open until 2:00pm, so it's got to be eaten sometime. We also split a piece of their Banana and Bailey's Coffee Cake because… when in Rome.
Last time we were at Arleta Library, we decided to check for the exhaust leak on the car and ended up finding 3-4 of the exhaust manifold bolts missing, requiring us to walk for several miles to a hardware store to get new ones. We drove past that store today with a feeling of victory as the car has been mostly issue free for the trip so far, with the exception of the climate control which continues to cause us grief. I don't know what it is with climate controls in cars, but they never work right while we're on road trips. The only thing is that at least this time we knew about it before we left. Still, it did bite us in the butt later in the day. While making our way through Portland, we saw many things that reminded us of last time through, including the house down the street where there were chickens. I assume they were delicious because the yard/cage was suspiciously empty this time.
While driving through the city, John was continuously excited about the abundance of Volvo 240's, both in sedan and wagon format. As an avid Volvo 240 fan who has never owned one due to the nature of their horrible condition in Canada, he could not contain his outbursts. Luckily we were unable to capture a photo of one as I refused to endorse their incorrect rear door shape and overall poor styling. On the plus side of the drive out of Portland was a man who's buddy had a Supra and he wanted to convert it to right-hand-drive and that's apparently going to be a lot of work but he really likes our car… We then pulled away from the intersection and continued on our way. He was going the same way. We smiled and gave him thumbs up a few times. He seemed as excited as John was about the Volvos.
The drive to the coast from Portland to Tillamook along Highway 6 was a pleasant one, nice scenery and only the occasional slow car to pass. The situation turned a little bit less fun after washing the car near the ocean (the sea breeze continually blowing the water back into John's face – who builds a doorless carwash right beside the ocean? Also, quarters, a thousand allowances worth of quarters!), as the traffic level was very high. On top of that the road doesn't actually get to be very good until you get around Coos Bay, something I seem to forget every time I drive this way. Next time I will remember.
The rest of the drive down the coast was beautiful, and we stopped a few times to take some pictures. Ultimately due to photos and traffic, the drive today ended up taking us quite a bit longer than expected and we ended up finding ourselves pretty cold as the day went on. Dressed in shorts and t-shirts based on the weather from yesterday, we were not prepared for the cool ocean weather of the Oregon coast and northern California. Plus that climate control issue? Well, it's expanded to include no heat coming into the cabin, we don't really know why, but I'll see if I can figure something out. Previously it has always been a switching valve for the heater water valve, but we recently replaced that (with a brand new one, not another used one), who knows though, they are a common issue.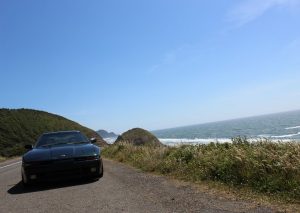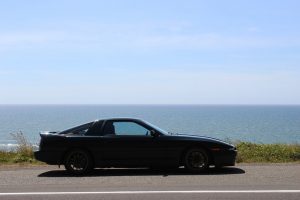 It is worth noting that while attempting to take that last photo I ran across the highway and jumped off of the shoulder to try and get a bit higher up. Unfortunately what looked like grass and brush was actually much deeper and much more
full of mud
. My shoe had become unusable, and I will need to find somewhere to wash it, which is unfortunate as these were my preferred driving shoes for the trip. The photo wasn't even that good.
I've actually found it a bit hard on this trip with how much good driving there is, to accurately remember my feelings on some of the drives that I previously thought were amazing. The coastal highway didn't have quite the same magic to it that it had last time, or the first time I drove it. There were still sections of it that had that magic, but on past trips the entire drive down was enchanting almost. This time, I had to wait for the amazing section. There was a lot more traffic this time though, so maybe that had something to do with it as well. Stuck behind a Jeep pulling a car on a 7% downhill grade that won't use the slow vehicle turnout is always a nice feeling, especially when the roads demand that you take them at a spirited pace.
Some of the views are definitely worth stopping for though. Even with the wind.
We stopped in at Denny's for supper to get something quick as the light was quickly fading and we still had a while before getting to Eureka. John had a chicken sandwich and I had a bowl of soup and club sandwich, it was non-exceptional, but still hit the spot since we hadn't eaten since breakfast.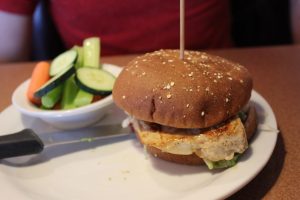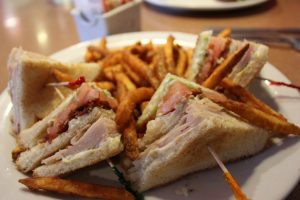 Looking forward to Highway 36 tomorrow, it's supposed to be a really nice drive, though I don't really know much about it beyond that it's supposed to be a really nice drive. We'll see if random person on the internet knows what they're talking about. We're going to try to make it to Reno, which is a shorter drive, and my girlfriend says Reno is terrible and that we shouldn't stay there. I believe her and so we may go further, but I was looking at hotel prices in Reno, and they're almost at Las Vegas levels. Seriously, like $35 for a 4 star place or something insane like that. Insanity.
Day 5 Destination: Reno, NV via California Highway 36