Destination: Montrose, CO
End of Day Odometer: 74,294km
Progress Map: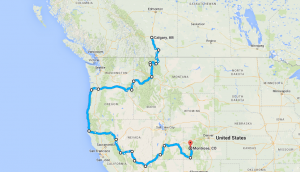 As far as free breakfasts at hotels go, the one we had today was the best we've had for sure. Lots of options, including various hot options and the stuff needed to make breakfast burritos. I don't usually expect much from a hotel for a free breakfast, but I actually enjoyed it. That said, the muffin was left somewhat uneaten as it was less stellar. Also, what's with all the tubes? Everything is in a tube. Americans I know are always asking about bagged milk (which isn't even common in most parts of Canada, especially western Canada), and yet everything is in a tube. Cream cheese? Tube. Yogurt? Tube. Sour cream? Tube. Stop being weird, America.
As we headed out from the hotel, we realized that it was actually getting pretty hot, and the A/C in the car was losing its effectiveness. I actually at one point thought to myself that I kind of missed the Tercel and not having A/C, at least then I wouldn't be teased by it and you just get used to not having it. When it's kind of working, but kind of not, I don't know if it's worse, but you spend more time thinking about it. So I grabbed a can of refrigerant when we stopped at a truck stop and added about a 1/3 lb. to see if that would help. It seemed to help, though the compressor is still cycling in a strange manor, not entirely sure why. I think possibly just due to the heat.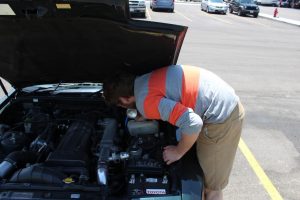 When you are planning a route based on the weather forecast on your phone in a McDonald's, you don't always check every single place along the way. It turns out that even when you go north, you still have to drive through the Utah desert for a couple of hours. It was 40 degrees, and that's cool (or not), but when it's too hot to use the A/C, it kind of sucks. Still, the rock formations were interesting, and the speed limit was 80 mph (130 km/h), so at least we were
motoring
.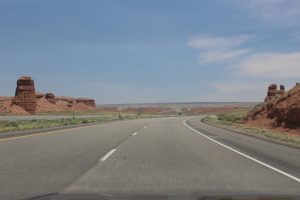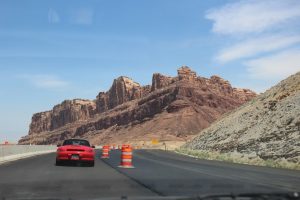 As we reached Moab, my right knee and right arm were getting a pretty good sunburn, and we were really in need of a cooling off, so we stopped in for a pit stop. We spent a good while in their cold beer room before buying all the glass-bottled Dr Pepper they had in stock. Also, some sunscreen and a hotdog. I could have lived in that cold beer room for the at least the next couple of days, but alas, we had places to be!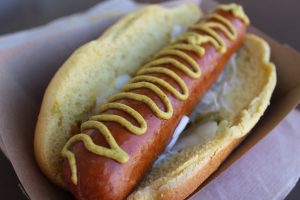 As we approached Colorado the temperature finally dropped down enough for us to be able to use A/C. Which is ridiculous, since I would have much rather used it when it was the temperature of the sun, but still, I was glad for it. As we started heading north in Colorado, the landscape began to feel much more like home, and there were some pretty impressive views. Before reaching the Million Dollar Highway, we stopped for a few photos with the car, and there was actually snow below us on the mountain. A/C not required, though what we did need was more turbo boost, so we turned up the boost controller. Driving from sea level to the mountains in a short period is always disappointing as far as engine power goes.
As we were pulling away from taking those photos of the car, John was driving and the ECU didn't seem to want to come out of deceleration (FCO) mode, it just had no throttle response at all. Not sure what went wrong, we swapped driving duties so I could take a look. After restarting the car it seemed to be driving normally, so we continued on our way. Unfortunately for John the next section of road would be one of, if not the best roads either of us had ever driven on. It was the Million Dollar Highway through the Red Mountain Pass. Over 11,000 ft. elevation, roads cut into the sides of mountains and no guard rails. Really it was the no guard rails that dampen your spirits as you twist your way through the pass. Earlier in the trip we drove Highway 129 in Washington and it was an amazing drive, and we couldn't help but compare the two. Today's drive was much more scenic and more interesting, but Highway 129 had significantly banked corners as well as guardrails. That said, I feel that if I could, I would drive the Highway 550 like 3-4 times in a day, because it really deserves it, and knowing what's around that next corner would make it so much better. My review: A++++++++ ROAD AS DESCRIBED WOULD DRIVE AGAIN.
(Unfortunately, our windshield was very dirty and there was almost nowhere to pull over.)
Even as you approach Ouray, CO coming down from Red Mountain, the road continues to be excellent, and the view is even more impressive. It's like something out of a movie, this small town right in the valley between two mountains. We stopped for gas at a non-open gas station and used their dry squeegees with our own washer fluid to try and get the windshield cleaned. It was mostly successful and we headed up to Montrose, CO for supper and a place to sleep. Being a Sunday night in small-town America, we only had a few options for food and so stopped in at an Applebee's on the way into town. John had some sort of beef thing and I had a steak with shrimp. We also discussed the man who first thought of deep frying cheese, a madman perhaps, but it was worth it. Also they ID everyone, which John seemed to enjoy a bit too much, and we both enjoyed the quick exit thanks to their electronic pay at the table option.
Tomorrow we hit up Skyline Drive in Canon City and the 14,114 ft. summit at Pikes Peak. We suspect the car should make it, other than the mostly unexplained hiccup today the car has been a real trooper. A/C issues aside (which I spent a while researching tonight, we will be swapping in more R134a appropriate components at some point – a parallel flow condenser, newer R134a compressor and an additional fan).
Day 10 Destination: Fort Collins, CO via Skyline Drive and Pikes Peak