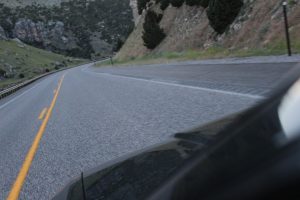 Destination: Red Lodge, MT
End of Day Odometer: 75,914km
Progress Map: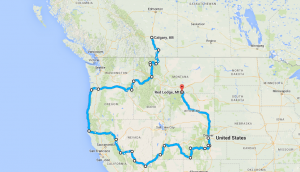 On my first extended road trip with my friend Joel in 2011, we took a 1984 Tercel Wagon and went to try authentic southern BBQ in Kansas City, Memphis and Texas among other places in between. When we weren't in the south eating BBQ, we stopped at a lot of places from Diners, Drive-Ins and Dives. Unfortunately we arrived in Denver too late to visit a local place called Steuben's Food Service, and I haven't made it back until today. It seemed to be a pretty happening place and was quite busy. John ordered chiaquiels with a sunny side up egg and some deliciously spiced beef (and perhaps other things) while I had the green chilli cheeseburger (which had been featured on the episode of Triple-D). Both were very good, though I almost wish I had ordered some of their other food, which looked fantastic, but I felt I needed to get something that was featured on the episode. If I'm ever back I will probably give something else a go.
On our last road trip in the expedition-spec Previa, we had wanted to try Krispy Kreme donuts as John has never had them and the local location has since been converted into a Tim Horton's. They're not the best donuts out there, but when you get them hot and fresh they are pretty darn good and not like other donuts. By the time we realized we wanted to try them we were already in Montana, and there are no locations in Montana. We didn't want to make the same mistake again, and the only place that had a location on our way back was in Denver (Thornton to be specific), so it was now or never. Upon arrival we found no hot and fresh donuts and were forced to subject ourselves to ones made earlier in the day. They're okay I guess, but we could just get these at a 7-11. Next time.
We've got one last amazing drive to do tomorrow after stopping in Red Lodge, MT tonight, the Beartooth Pass Highway. I have heard from multiple people that it's supposed to be an amazing drive and it was also included on several lists of the best roads as well, so I'm really looking forward to that. Unfortunately that means that we had to limit how much driving we actually did today. Even so, having to stop at Steuben's and Krispy Kreme meant we got a pretty late start. On the plus side, the scenery into northern Wyoming is actually pretty amazing. It's not a pure driving experience, but the roads up to Red Lodge were just an overall pleasant experience with some curves and tunnels through mountains. Not boring like a straight interstate.
After a couple of detours thanks to spotty maps and John missing a sign or two, we pulled in to our hotel in Red Lodge just before midnight. An unfortunate situation as we had planned on being on the road by 7:00 AM tomorrow. We'll have to see how that turns out. Still, the drive tomorrow should start off well, we're right at the start of the Beartooth Highway, the unfortunate thing is that we think Pikes Peak may have done the turbo in on the car. It's been making some strange noises today when hitting higher boost levels. I guess a free turbo can only last so long pushed so hard, I hope it holds up.
Day 12 Destination: Calgary, AB via Beartooth Pass Highway