Destination: Latta, SC
State Count: 11
End of Day Odometer: 342,435km
Progress Map:
Started the day off right by packing up, checking out and heading back over to the air hockey table for a couple of follow up games to last night's crushing defeat of John. I won both games, not that it matters, but I also won the last game, which does matter. I am victorious. John loses. VICTORY IS MINE!
After getting into the van to leave, we realized we had left 2 bottles of Sioux City Sarsaparilla in the hotel fridge. Feeling sad, we drove the van over to Dixie Belle's Café and ordered the highly touted and own section owning BISCUITS AND GRAVY (capitalized for maximum effect, they're famous you know). I also ordered an orange juice, since I was in Florida and had yet to do so. Of the whole experience I have this to say: the orange juice was good. The biscuits and gravy was not.I've had biscuits and gravy at a few places, culminating in my favourite of spots, the Arleta Library Bakery and Café in Portland. The biscuits were bland and completely covered in a slimy mess of creepiness. People have told me that they didn't like biscuits and gravy, and I'm pretty sure it's because they ate something like what we got at Dixie Belle's. The gravy was the consistency of used wheel bearing grease and suspended the sausage and biscuits inside of it so well that I don't think they even had a chance to touch my taste buds. Afterward I felt like I had drank a water bottle full of melted butter. It was intense.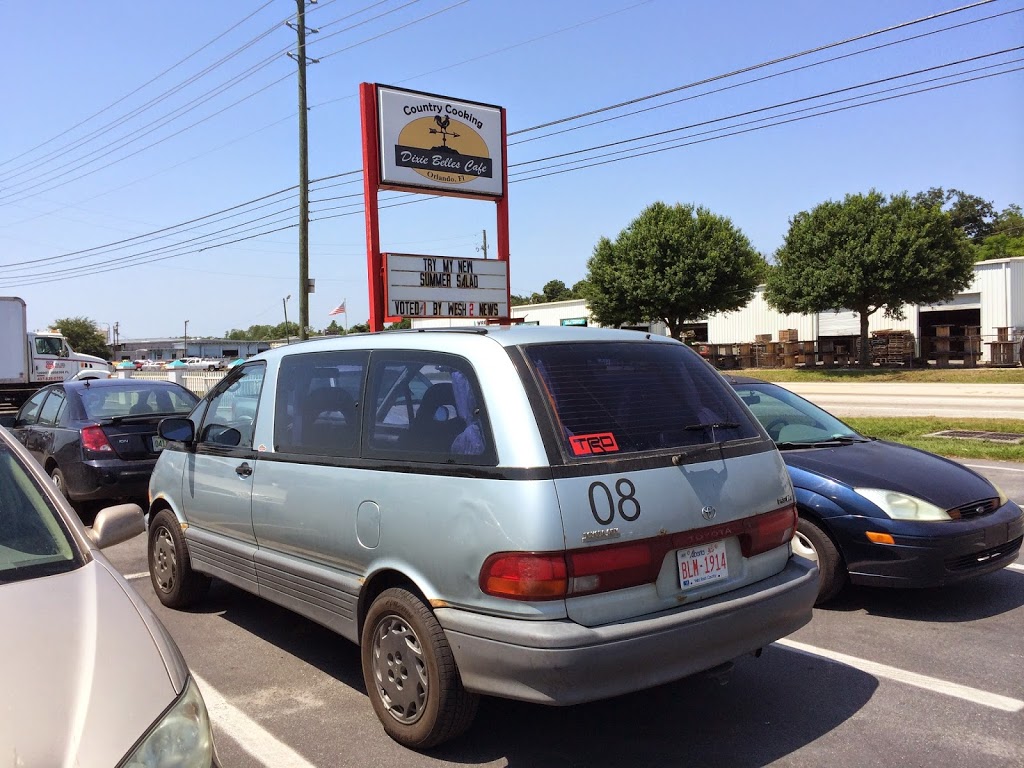 For reference, a photo of the biscuits and gravy from Arleta Library. I had hoped to get something similar to this, but it turns out what people down here in the south want is not what I want. People said Dixie Belle's was good, they were wrong.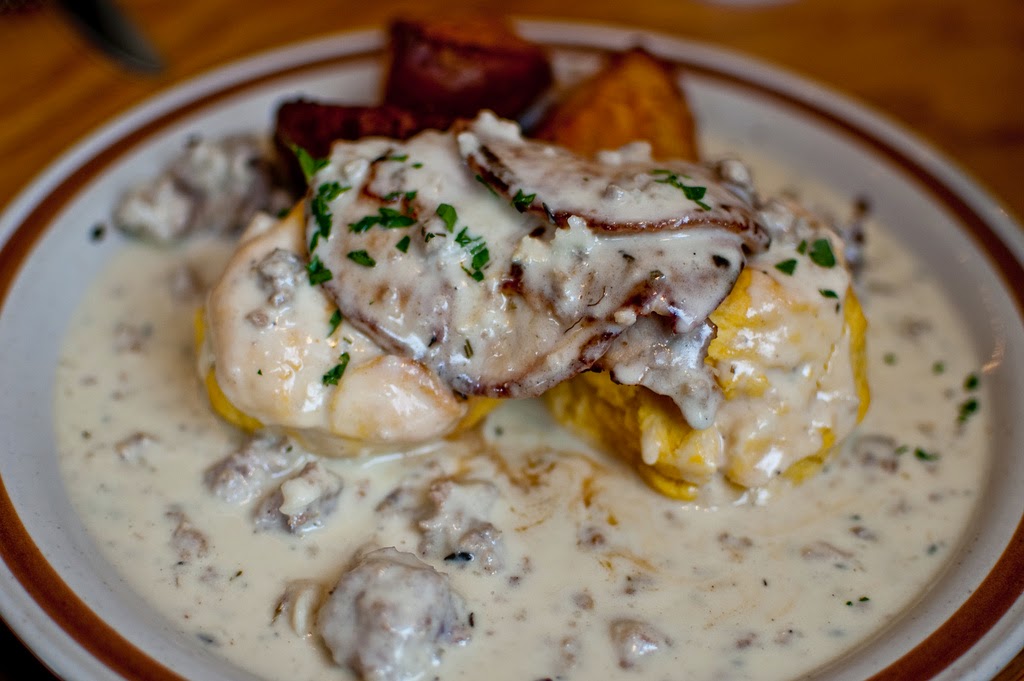 After our "food" we headed down to the Ritz-Carlton where I had been told there was a cheesecake to die for at their Citron restaurant (actually located in the Marriot section of the grounds). After a horrid culinary start to the day, this perfectly crafted cheesecake-centred dessert definitely helped to get the day straightened out, though it cost us quite a bit of time. On a day that we had originally planned on traveling 1370km we were now not leaving Orlando until about 1:30pm. It's not a huge deal, but we had hoped on grabbing some barbeque in the Carolinas, and timing wise that may not look too good now.
On our way through Jacksonville, FL we had originally planned on getting pancakes, strawberry milkshakes and Red Vines in support of one of our recently watched (and highly enjoyed) Netflix adventures, the TV series Fringe. Set primarily in Boston, the show also has a pretty big connection to Jacksonville and one of the main characters, Walter, has a love for food and liquorice. That said, we were still trying to recover from that "food" we had eaten earlier so we ended up just getting some Twizzlers (which are way better than Red Vines, let's be clear here). They went down easy and actually made us feel a little bit better. Imagine that, candy making your stomach feel better. Crazy biscuits and gravy.
Florida has terrible drivers. They're just bad. Young people, old people, all of them. I don't think there is any malice behind their actions, it's just what everyone does so they're probably used to it, but they're terrible. They make the worst lane changes, they only signal when, well I don't know when. I saw some people signalling here and there, but it was so infrequent I couldn't put my finger on why they were doing it at the time. As we headed back into Georgia and the Florida drivers thinned out, things got a bit better, but every now and then you'd have someone from Florida squeeze through and be bad all over again. Stop it Florida, stop it. Still, Orlando was pretty awesome and Disney World made an impression, I'll be back.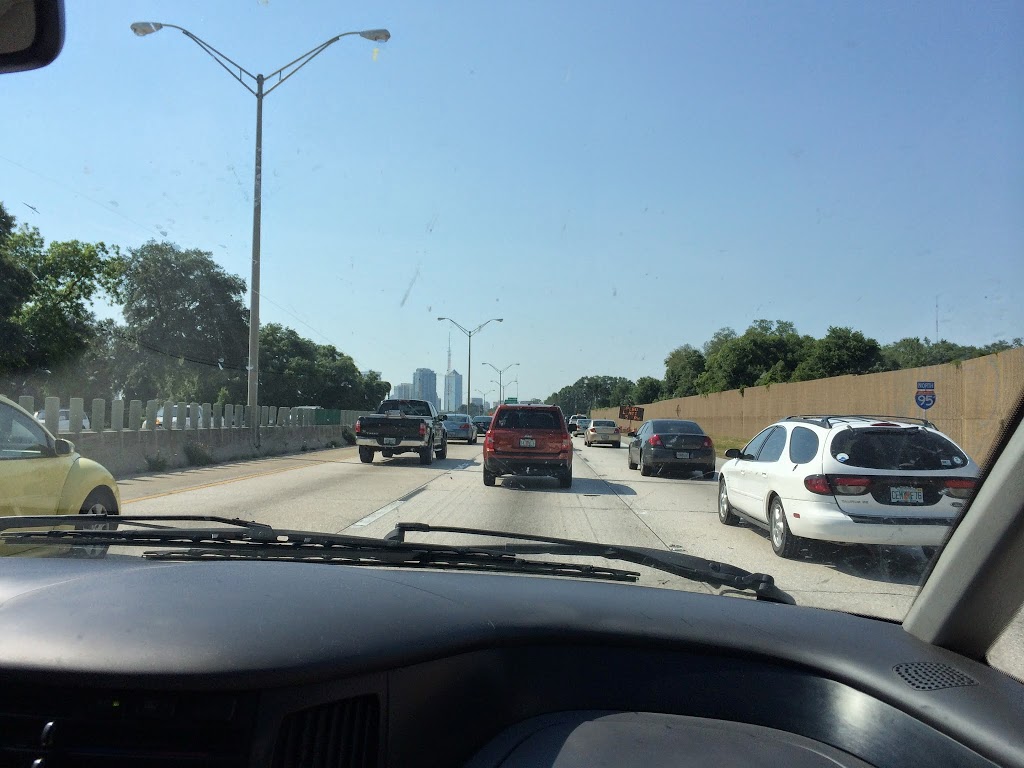 Having been denied Georgia peaches a couple of days ago after tying to get some, when we spotted an actually existing/open peach stand, we decided to stop in and pick some up. They were expensive and after getting back into the car we realized a few had been dropped, but the fruit was still a nice change of pace and John got a really excellent peach slush. Top notch stuff. That said, Okanagan peaches seem better, and a lot less driving to get them. Also, why are there boiled peanuts? We don't know what they are or why they are a thing. We didn't get any to try yet, but they seem advertised all over the place around here. We may do in the future.
After eating about 5 peaches, we stopped in for gas further up the interstate. We wanted to upload the blog post from yesterday and get some gas and stumbled upon an almost exclusively McDonald's gas station. It was very cool from the road, though it proved to be a source of very slow wifi, and an almost continuously occupied restroom. Wanting to support our internet provider we both had a McDouble before giving up on uploading the blog and focusing on where to find some good quality Carolina barbeque. South Carolina has 4 official sauces for their barbeque (which is exclusively pork, by the way), and I would love to try all of them, but just based on the time of day and where we were on the road, we ultimately decided that we'd have to skip South Carolina and have some eastern North Carolina barbeque tomorrow instead. Putting more food inside of us today just didn't seem doable. It would not have been very enjoyable.
Having given up on the McDonald's, we carried on and ended up stopping in some small no name town for some potty action. After checking three or four places and finding all of their lavatories lacking a certain civility, we moved on from that craphole and found a more reputable place further up the I-95 in Latta, SC: The Flying J, our home away from home. During our getaway from the bad town something smoked the windshield and cracked it real good. A sad day for our genius egg*. It was getting late, and we still hadn't uploaded the blog, so we drove around in the hopes of finding some faster unsecured wifi, which was quickly discovered at a combo Shell/McDonald's down the street. We used their wifi and got things taken care of before watching some TV in the van and going to sleep. We'll get the rest of the way to Washington tomorrow and eat some North Carolina barbeque along the way.
Day 9 Destination: Washington, DC
* Genius egg nickname used by Mayuko. We like it.