Destination: Kaslo, BC
End of day Odometer Reading: 225,120km
The cabin isn't exactly a large building, so when someone wakes up, most other people wake up. Jeff's aunt and uncle wake up early, which is considerably earlier than the previous usage of "early" in this blog. So after staying in a semi-awake/semi-asleep state for a couple hours, Jeff got up to breakfast being made. We had pancakes for breakfast and spent the rest of the morning relaxing while Jeff's cousins went golfing. Later in the morning, Jeff went for a drive up the mountain in his uncle's Corolla XRS, which was a real treat after spending over 3 weeks in the Tercel. After getting back, we had leftover lasagne and ribs for lunch and set out planning for the afternoon.
After lunch, Jeff and his uncle took the Tercel up to the dump to get rid of a bag of garbage, when Dave mentioned how bald the tires looked. As the tires had about 90% tread on them before we left, Jeff decided to take a look at what he was talking about. It turns out that the alignment on the car is probably not at its peak, so it may have worn the front tires a bit faster than normal, we pulled one of the tires from the rear and swapped it to the front so that it doesn't wear any further. Hopefully it holds up in the rear to get back to Calgary.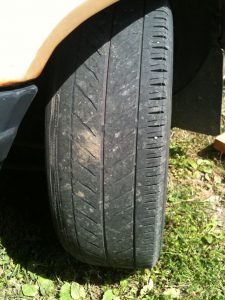 After swapping the tires around, we sat around relaxing and listening to music until the sun was in the right spot for us to head out into the back yard and smoke our pipes. After sitting out back for a couple of hours we went back inside and various people started getting supper ready. For supper we had the Spam Special, which is noodles (usually home-made, though that was not the case this time), with sour cream gravy and caramelized onions and an egg or two. Throw a couple of breaded and fried spam patties on top. Delicious? Perhaps.
After supper, we headed south to Ainsworth to check out the pool and hot springs, but after seeing how many people were in there, we decided to head back to the cabin and eat some desert and play some Bohnanza. After eating and playing a couple of rounds, we headed to bed. Joel slept in the hammock. .
The goal for Day 24: Try to make it back to Calgary, we'll catch whichever ferry happens to be running when we get there, probably the 9:50am. Afterward, we'll continue through the Crowsnest Pass and stop somewhere for lunch. Once we get back into Calgary, the plan is to cap off the trip with a visit to Charcut downtown for one final meal.