Destination: Kansas City, MO
Starting Odometer: 111,864km
End of Travel Odometer: 114,567km
Progress Map:
We left Calgary after work on Friday and as we headed south out of the city the trip seemed to feel new but with a healthy dose of nostalgia for previous trips taken in a similar fashion. One thing that seems to have become somewhat of a tradition is to stop and eat in High River, AB. The Dairy Queen there is well run and almost always better than most other DQ you've been to. We all independently ordered the same thing: a Flamethrower Burger. The fries were a little subpar compared to their usual crispy selves, but overall the meal did not disappoint.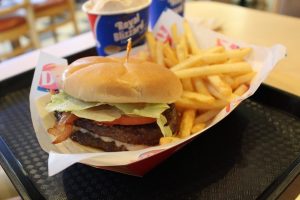 After eating we got back on the highway and headed towards Montana. The stop at the border was a bit longer than typical (though not the longest I've experienced by far) as the border agent seemed dumbfounded at the prospect of driving all the way to Kansas City to "go to a barbeque," as he put it. After some further questioning of Joel's career prospects, a few mosquito traveling companions, and a quick look in the trunk we were across into Americaland and looking for a place to sleep for the night. Several hours later we found ourselves in a state-fair overrun Great Falls, MT. We tried our luck at 3 hotels before finding one that had a room for us: a king bed and a pull-out couch. A great wall of pillows kept Joel and I separated on the bed (we're not brothers, so…) while John got better acquainted with the bar on the pull out that is always somehow positioned in the worst part of your back no matter the manufacturer. It was 2:00am, we didn't care.
A quick stop at an almost done continental breakfast netted Joel a free banana, but we stopped in at McDonald's anyway to take advantage of their quick food and all-day breakfast that is not yet available in Canada.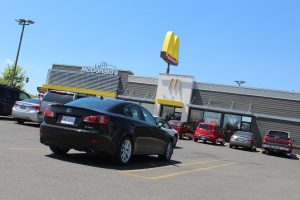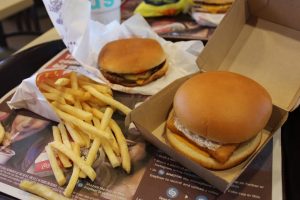 Feeling pretty good about ourselves for making it to the first nights destination without too much trouble, we departed on our 13 hours of driving to get us to get to Sioux City, IA. That feeling was dampened a bit more than slightly when the check engine light came on while Joel was driving. At that point, nothing seemed particularly off about how the car was running and without a way to read any codes I decided we would press on and look into the issue later. Later, it would turn out, was to be thrust upon us sooner than expected as the car died leaving us sitting at the side of I-90 just over a crest at the Montana-Wyoming border.
I was not amused for extremely obvious reasons. I had tested my car for over 10,000km before we left, it was driving fine! After trying to restart the car, I tried to reset the engine computer, checked out a few things, but this was the reliable car! When we took the Supra, I brought a box of spare parts, tools, fluids, you name it. This was not that kind of car, it didn't make any sense! As I pondered our predicament, I went over all of the possible options, having to get parts shipped to us, having to rent a car to drive somewhere to get parts, you name it. What was clear was we needed to get
somewhere
and out of the 38 degree heat. After not getting through to Lexus Canada roadside assistance and having Lexus USA roadside assistance tell me they were unable to help I called my credit card for help. While on hold my iPhone overheated (a familiar experience from past trouble back in 2013) and we lost the call, luckily they called back a few minutes later. Long story short: we were towed to a Toyota dealership in Sheridan, WY.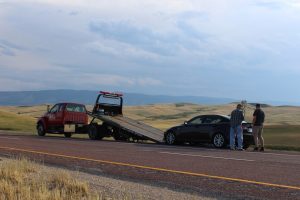 Despite the towing company's insistence that the local Toyota dealer will not touch a Lexus, that's where I had us towed anyway. If I needed to diagnose anything in great detail, I would need a Techstream diagnostic computer, and this Toyota dealership was the only place to have one anywhere near us. Luckily Yahtzee kept us sane as we waited for the tow truck driver and his tow truck-owning grandfather. Both were adamant Donald Trump supporters and the younger of the two couldn't seem to comprehend why us Canadians wouldn't be voting in the upcoming American presidential election. I stood in awe with a dumbfounded look on my face as John had to explain why a long weekend exists in August; apparently the driver would rather get paid for that extra day.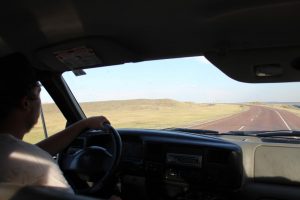 Back to the car: in my mind, excluding the check engine light and the fact that the fuel gauge was still showing that we had gas left, it really seemed like we ran out of gas. But how could that be? The check engine light was too hard to shake and so we walked over to a local Auto Zone and picked up a diagnostic box that can connect to a smart phone and made our way back to the car. No related codes that I could tell, but there was a problem. My phone really wasn't connecting to the box properly and would only occasionally work at all. So, after a quick thunderstorm and heavy rain (that lasted all of 20 minutes) we headed back to Auto Zone to exchange the unit for a more simple code-only reader. On our way back to the dealership, we stopped in at a gas station on the way for a second time to pick up a jerry can and some gas just in case; wouldn't that be stupid? Out of gas? Yes, it was that stupid. We were out of gas. The gauge still showed fuel in the tank and a calculation of over 40km remaining until empty. Whatever, there really was no time to think about that now, we had lost over 5 hours of travel time, it was dark and we needed to get moving if we still intended on getting barbeque in Kansas City any time soon. After a quick third stop at that same gas station (this time with a car), we made a quick stop at Arby's to make sure we had the energy to go on.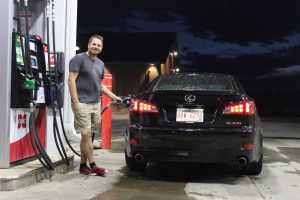 We managed to make it to Spearfish, SD that night, as they were the most reasonably priced in the area. Any further would put us firmly in the Mt. Rushmore/Sturgis tourist pricing zone. It wasn't nearly as far as we had hoped for, but it was a bed and it was late. Plus, they had a semi decent hot breakfast which was free. The price was right at least.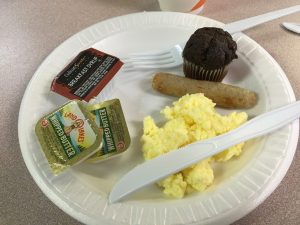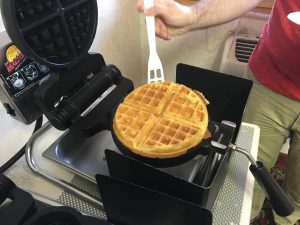 Moving on, we didn't stop much; in fact we had originally planned on stopping at Mt. Rushmore as well as the last of a previously huge restaurant chain, but we just kept moving to make sure we would be in Kansas City before Arthur Bryant's closed at 8:00pm. We had a long way to go and a time change to hit so we kept motorin', only stopping for gas and a quick lunch at Subway. It was an impressive Subway though, I must say. It was proper restaurant sized and they had superior ingredients compared to back home.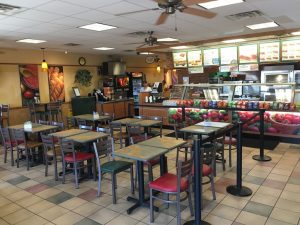 As we approached Kansas City, it was looking like we would be finally be getting to some non-fast food on this trip, proper barbeque in fact! My estimates put us at Arthur Bryant's around 7:45pm, leaving us with just enough time. When we arrived we found that Google had lied to us and they were actually open until 8:30pm: score! All three of us got a full rack of ribs and it was glorious. Our first taste of sweet sweet southern barbeque, and that Sweet Heat sauce. Oh goodness!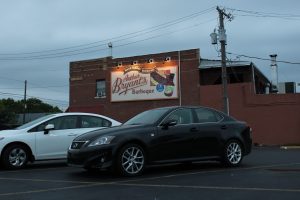 Day 4 Destination: Kansas City, MO! We're not leaving that quickly, there's a lot more meat to eat!