Destination: Love's Travel Center, 80 miles North of Chattanooga, TN
State Count: 8
End of Day Odometer: 340,527km
Progress Map: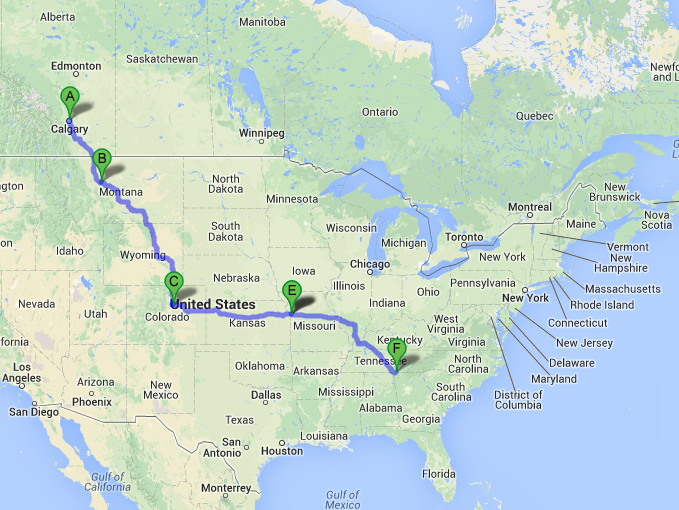 We started the morning off by heading over to Hendrick Toyota Scion in Merriam for an oil change. It was the most delightful oil change experience I've had in years, and the dealership was pretty nice as well. On top of all of that they had fast internet and outlets to plug my laptop in. Got the blog uploaded in record time from their customer lounge. We received a lot of compliments on the Previa and a couple of people shook my hand and asked if we were stopping at all of the Toyota dealerships between here and [pause] Alberta. Didn't cost very much either, which was a nice surprise considering my experience in New Orleans last time I wanted to get an oil change in the US. I look forward to our next oil change in the hopes it goes as well as this one did.
After leaving the dealership, we were confronted with a fantastic display of freedom performed by one of the greatest Americans I have yet to see in person,
That Motorcycle Guy
. He was riding
a bike with no plate and wearing a most excellent t-shirt stating his conservative opinions on the actions of the local police service. He then proceeded to run a red light turning left and do a wheelie the entire way down the on-ramp while standing on his seat. Roll on good buddy.
Next we headed back over to Oklahoma Joe's for one last taste of Kansas City barbeque before leaving the city on our way down to Florida. It was even better than the first night, so fresh, so awesome. A+++++ WOULD EAT AGAIN. We both ordered half racks of ribs and split a half pound of beef brisket. We then bought some Sioux City Sarsaparilla from their convenience store and headed for the highway.
We decided to skip the lackluster barbeque in Memphis and take the slightly quicker route through St. Louis (an eventful drive on account of some construction and a car unable to stop, instead swerving into a cable barrier – those barriers hold up surprisingly well) and then down through Nashville. Between these two points is a wonderful state known as Kentucky, home of fried chicken (or so I'm told). We were only going to be in Kentucky for a very short stretch and were in somewhat of a hurry so decided that the first place that had fried chicken would be our stop. We found a Popeye's Chicken and stopped in for 2-piece meals each. We were both still feeling fat from our excessive lunch, but when you're in Kentucky: you eat fried chicken.
We felt like we were cheating a bit though, eating Louisiana-style chicken in Kentucky and claiming to have eaten fried chicken in Kentucky. It's a matter of principle you see. There was actually a KFC just down the road so we stopped in and bought 3 chicken wings just to make sure there were no accusations. John had a bite of one wing.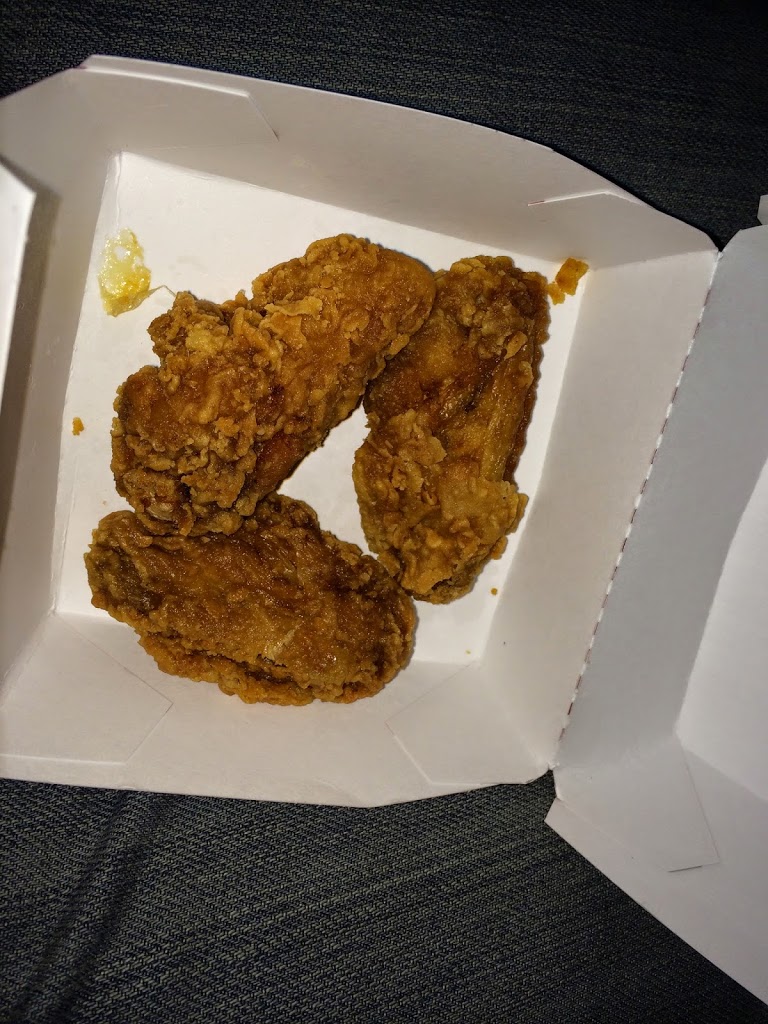 While driving down the road and not necessarily wanting the coldness of A/C, but not wanting to lose that dehumidifying action action action, I tried to turn on the heat a bit just to take the cooling edge off. It was like opening a radiator cap on a hot engine in every face-pointing vent in the van. It appears our heater core has sprung a leak. Looks like we are limited to A/C or ventilation from here on out. Not that we need much heating in Florida, but it still sucks when something goes wrong with the van. We'll have to sort this out when we get back (KURTIS!).
All the way along the sides of the road through Kentucky and into Tennessee were amazing swarms of fireflies. I've never seen more than like one at a time before, and there were hundreds everywhere you looked. It was very cool, and crazy hard to take a picture of from a moving vehicle. I had to look through 25 pictures of black before finding a picture that showed one firefly and one that died at the hands of our comically sized windshield.
We were hoping to make it to Chattanooga by about 1:00am, but the road maintenance dudes (bless them) had decided to close 3 of the 4 lanes on the I-24 and so we were stuck in a sea of 18-wheelers (my home-boys) for about an hour and we turned in at a Love's Travel Center when we found one.
Day 7 Destination: Orlando, FL